Event Details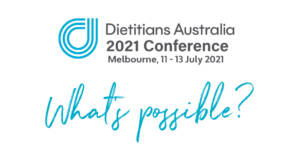 NAME
Dietitians Australia 2021 Conference – What's Possible?
Case Study: Dietitians Australia 2021
Who 
Dietitians Australia is the leading voice for nutrition and dietetics in Australia. DA aims to support, provide education, train and advocate for their members, and in turn create a healthier and happier community.  
What 
The annual conference is usually a time for members and other stakeholders to come together, network, learn and support one another's work and research in the sector. With positive thinking, DA2021 was intended to run as a hybrid event with an emphasis on as many delegates and presenters attending in person as possible. Committee, organisers, delegates and speakers were all looking forward to coming together in 'real life'!  
Our Challenge 
Unsurprisingly, with the ongoing pandemic continuing to rear its ugly head, the decision was made to pivot from a hybrid events to a fully virtual conference. So, with advice given from our experienced and professional team, Dietitians Australia felt comfortable in moving the entire conference online and was assured there were plenty of positive features to be gained within this new format.  
Coincidentally, the keywords of the conference, Transform, Reinvent, Diversify, were now not only relevant to the dietitians but to the event staff too! 
Some challenges we faced moving to fully virtual were: 
Short turnaround time; with only four weeks until the conference was to begin, not much time was allowed to change tact and execute all elements involved in running a virtual event. When you consider the usual time given to 

organise

 an event it was considerably less.

 

Communicating with all relevant stakeholders about the change of plans. How was this information to be relayed to the right people, at the right time without information overload!

 

Training on the event platform (Cvent) for 

speakers, chairs and delegates,

 as these members weren't familiar with operating through this particular online platform.

 

Replicating a live Q&A session.

 

Encouraging and supporting speakers to complete, record and upload a clear and well produced presentation.

 

Offering ROI to our sponsors and exhibitors.

 
How we did it 
With the combination of our dedicated event team and our digital operating platform Cvent, TBE was able to successfully run the DA conference in a fully virtual format.  
Planning.

 With general uncertainty around in-person events it was imperative that we had a contingency plan that involved a pivot to fully virtual. When the decision was made, we were ready to roll out. The coordinated effort between the team gave us confidence and allowed for a smooth transition. For example, our delegate services team applied the partial refunds between the in-person and virtual rates, giving delegates assurance of the process/switch.  Our sponex team had sponsorship entitlements ready to switch to virtual offerings and concessions were made where appropriate.




 

Content.

 Sunday workshops which were previously offered at an additional charge were switched to complimentary/bonus content. Going fully virtual meant all conference content was available on-demand for 90 days post-event.




 

Partnerships.

 Due to the long-lasting relationships that Think Business Events value, our venue partner generously offered a postponement of our booking and we were able to transfer the booking to a future date.




 

Communication.

Clear and consistent communications were made to stakeholders via direct emails and calls, and eDMs, so all parties involved were kept up-to-date on the latest news and information. It was important to TBE and DA that our delegates and speakers had plenty of time to rearrange any plans and movements, therefore the next day, an email was sent to all registrants notifying them of the change in detail. Information on social media and webpages was also updated at this time. 

In moving to a virtual format, Chairs and speakers were sent calendar invites for their presentations so there was no confusion about when to present in AEST. These invites included a link to the platform 30 minutes before they were due to speak so any technical issues that may arise were dealt with prior to their presentation.


Tech & Support.

 As our speakers were now required to either pre-record or present live on the day, we offered support and guidance around producing these videos. 

Our chairs and moderators were offered four training sessions and were heavily encouraged to attend. Not only did these sessions give our chairs and moderators confidence in navigating the platform it gave us insight into some operational queries we hadn't expected. If personnel were unable to attend these sessions they were recorded and circulated for on-demand viewing.  

In-depth support was offered for issues like audio/visual, platform navigation, moderation, live streaming and page access. 

Recreating the real-life Tech Room was made possible with the Green Room feature of our platform. The Green Room was populated with techs from CVENT to approve and suggest optimisations for speaker presentations, and TBE staff were also on hand to answer any questions. Guidance was beneficial in building speaker confidence for managing these new processes in their personal home environments.




 

SponEx Engagement.

 Reinforcing the positives around virtual events like; the gaining of exposure at point of engagement. Branding has high visibility in the actual program with sponsored videos being shown at the beginning of sessions showcasing thank-you's and company logos. Delegates are switched on at this point giving sponsors confidence they're in the right place at the right time. Exhibitors are saving money on fit-out, staff, travel.

 
Results 
With only a small percentage of registrants deciding to forego their attendance, the many hundreds who did come to enjoy the conference were more than pleased with the result. Some encouraging outcomes we found were:
Online networking opportunities; through Cvent's easy to navigate platform delegates were still able to converse and create engaging discussion with their peers. We found particular positive outcomes around the live Q&A sessions. These became much more dynamic, encouraged more discussion due to the different perspectives available with an array of speakers involved. 




 

Content on-demand; sessions and posters are available to delegates for 90 days from the conference date. This allows attendees to feel confident they won't miss anything and are able to go back, make notes, and delve deeper into their chosen subject matter. With the many concurrent sessions running, this will continue to be an advantage of virtual and hybrid events in the future.




 

Delegates numbers were only slightly down on usual registration levels from when the conference was planned for a hybrid format. We successfully kept close to 100% of all hybrid attendees. Our highest attended plenary session attracted roughly 75% of an in-person session and our closing ceremony (which included awards and announcement of next year) saw an incredible 200% increase in attendees from previous in-person iterations.

 
Key Learnings 
Presentations are recommended to be pre-recorded to create a more streamlined operation of the virtual format. Although this means videos must be recorded and uploaded two weeks prior to the event this helps to 

minimise

any changes required on the day around order of speakers and general run-through. We will continue to offer our keynotes a professional recording session to elevate their presentations.

Live Q&A sessions are enjoyable and can be much more dynamic than a standard in-person Q&A. Discussion is expanded and delegates and speakers are able to gain different perspectives and be introduced to subject matters they may not have been in a single session, in-person format.

Keep it simple; for confidence levels and general experience we'll continue to use a video platform that speakers are familiar with and offer support information in video format where applicable.

Continue to engage delegates at the beginning of plenary sessions with casual polling questions to increase the feeling of togetherness.

Social events should still be considered a valuable component of virtual conference. Even a one hour casual catch-up with delegates' cameras on can do a lot to build a sense of community and remind delegates of their peers and colleagues.

Survey feedback told us 77% of attendees found the virtual format of the conference good or very good although 62% would still prefer to attend an in-person event in 2022.

 
Need advice running a virtual or hybrid event?
Read More of Our Event Thoughts