7 top tips for keeping your conference fresh
Delivering an annual conference and keeping expectations high can be a challenge.
Our 7 top tips will keep your delegates and sponsors returning year after year.
When it comes to delivering annual conferences, it can be pretty tough to back it up successfully year after year.
With the rise in success of a conference program, so too does the expectation levels of delegates and sponsors. When you fail to meet expectations, it'll undoubtedly impact the numbers of impending events.
So how do you keep your conferences fresh? Here's our top 7 tips to keeping the bar high on your annual events:
1. Ask and Listen
One of the biggest mistakes that can be made in conference planning is assuming to know what people want.   Instead, take the time to ask and –most importantly – listen.
Take advantage of the onsite surveys undertaken from the previous conference.   Get an understanding of what worked and what didn't and then implement change accordingly.
But don't just rely on the feedback from people who attended – speak to your key stakeholders – the sponsors, the program committee and the recognised leaders and influencers in the profession.   Even take the time to engage people in discussions about other conferences they've attended and what made them memorable.
Evaluate the feedback and make concerted efforts to implement the changes the committee agrees will make a difference.  Put measures in place to review how these changes fared and make recommendations for the next annual event.
It's a good idea to communicate with your membership base any changes made to demonstrate you've listened, as well as, managing expectations for the following event.
One of the biggest mistakes that can be made in conference planning is assuming to know what people want.   Instead, take the time to ask and –most importantly – listen.
2. Set Your Goals
Planning a conference is a long-term game with organising an event often exceeding 12 months. Organising without clear direction or goals can make it difficult to actually plan a successful conference.
Set some objectives and measures to guide the organising committee into clear decision making. Objectives could be as simple as:
Increase satisfaction level of delegate attendees by 10% from a previous conference (measured by surveys)
Achieve an increase in participation from a particular sector of your membership
Provide more opportunities for sponsors/exhibitors to interact and network with delegates
With a shared vision, it will be simpler to deliver a fresh conference that will get your delegates, speakers and sponsors talking – for the right reasons.
3. Shake It Up
Just because it's the way that it's always been done – doesn't mean a conference program can't change.
While we wouldn't recommend completely altering a program that's been in place for years, making tweaks or introducing innovative technology keeps people interested.
It could be as simple as changing presentation formats and introducing world café style sessions, or an interactive panel session with live polling to engage the audience. You can make plenaries similar to shorter TED style presentations or even take people offsite for experiential tours.
Conference apps are also a valuable tool in changing up programs, allowing delegates to interact and engage better during sessions.  For example, live polling can often create some controversy leading to lively debate amongst speakers and delegates.  Or allow delegates to ask questions online throughout the presentation so the presenter can tailor their content to what delegates are wanting to know.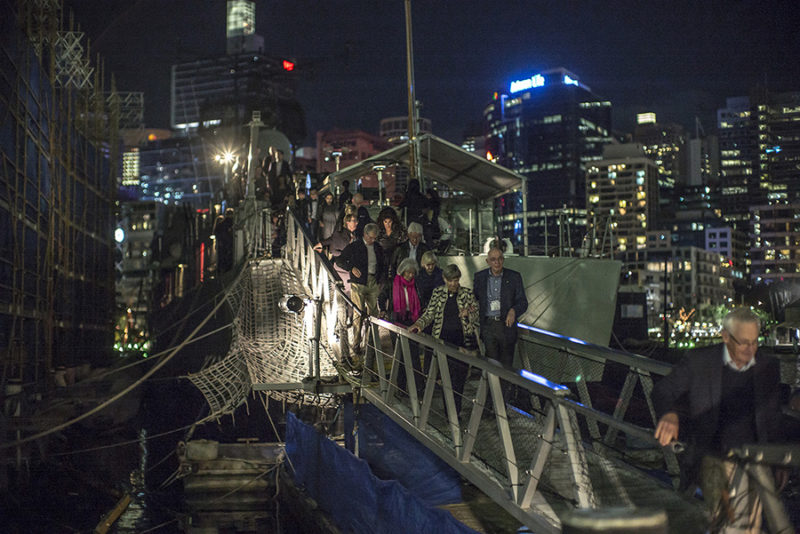 BE AN ENTERTAINER: Conference dinner drinks on the deck of a submarine was a memorable experience for delegates.
4. Be an entertainer.
While conferences are certainly more about learning and connection, it doesn't mean it has to be all business.
Think about integrating theatrical or performance aspects to an event that will bring the conference to life.
This could be as simple as the types of entertainment at the opening ceremony or social events to the types of venues used.   At one conference we held the gala dinner at a Maritime Museum with pre-dinner drinks served on the deck of a submarine which proved to be a memorable experience for delegates.
At another conference, we hired a visual storyteller to capture the key points of presentations in illustrations. The images were displayed over catering breaks keeping the conversation focused on key points, presenting new perspectives and making it a more interactive and engaging process.
Both of these two examples were easily affordable and created a positive impact for all attendees.
5. Dress It Up
The way a conference is presented can have a positive impact on the perception and energy of the event.
Get a professionally designed conference logo and brand that is an attractive and fresh visual representation of the year's theme.  You need a brand that will appeal to your target audience and set a level of excitement and expectation of what's to come.
Ensure this brand is consistently rolled out through all marketing and at the event with signage, staging and merchandise.  It will really contribute to the perception of a high-quality event.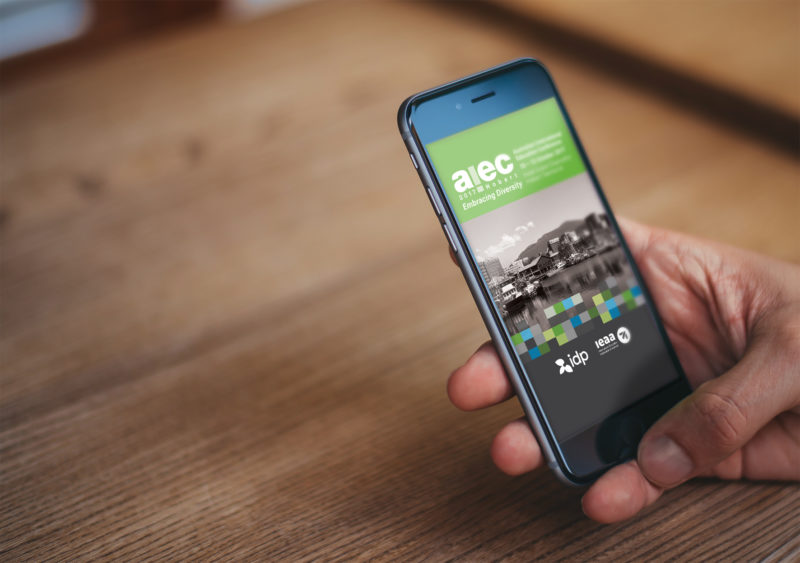 Innovative technology, such as a conference app, has the capacity to keep your delegates engaged and your conference fresh.
6. Be A Matchmaker
Remember a lot of the value in attending conferences for delegates and sponsors is the connections they get to make. Each year you need to ensure you maximise opportunities for attendees to interact, network and simply chat.
However, this can present quite a challenge when many of your delegates are either first timers or don't really know anyone.
Ideas for getting delegates interacting and actively networking include:
Bringing in electronic badges and connecting people through the app
Introducing a 'meet and greet' activity for the welcome reception where a delegate has to find 2-3 other people with similar interests by matching tokens
Looking at catering breaks and configuring furniture and meal selections to encourage delegates to mingle
Holding structured networking sessions for people with similar interests or situations (such as delegates from regional areas or in the early stages of their careers)
One conference app we use provides the opportunity to schedule appointments or meetups with people. This is great for sponsors and exhibitors to meet delegates and even for student and mentor introductions.
7. Improve the Little Things
When delegates attend the same conference year after year – they notice the little things, the differences and the things that just aren't working.
So always ask "How can we make this conference experience better or easier for delegates?"
Ensure that the usual processes are seamless – from how a delegate can register and book accommodation to how clear the communication pre-event is and the responses they encounter when they make an enquiry. It all counts towards perceptions of an event.
So always ask: "How can we make this conference experience better or easier for delegates?" 
When the planning of your next annual conference approaches, be sure to take these seven tips into consideration to make it the best event yet. Until the next one that is.
Looking to keep your conference fresh?
Read More of Our Event Thoughts