How to recruit, manage and deal with event volunteers
Sixty-five students from across South Africa gave our team a helping hand onsite at WFOT 2018. Our volunteer coordinator nominated them as the best she's ever dealt with.   Zoe shares her top 8 tips for getting the most out of your event volunteers 
Event volunteers can really help in the smooth operation of any event – if you get the right ones.  Zoe, our regular conference volunteer coordinator, found the best volunteers she's ever had the privilege to work with at the recent WFOT 2018 Congress in Cape Town.
When the World Federation of Occupational Therapy's  2018 Congress committee put a call out for event volunteers to Occupational Therapy students, they received an amazing response.
Seventy-eight occupational therapy students from across South Africa submitted an application.  A total of sixty-five were selected to help out across the five-day event.
"Many of these students don't have ready access to funds but did whatever they could to be there and participate in the Congress," says Zoe.  "They were the most committed, enthusiastic volunteers I've ever met.  Helpful  from the moment they arrived at 7am right through to the end of the day at 7pm."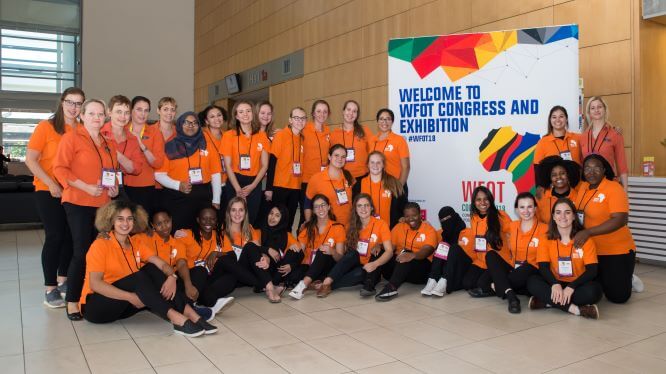 Zoe, our volunteer coordinator, counts the WFOT 2018 Congress volunteers the best she has ever worked with.
Tasks that volunteers helped with included providing directions to delegates, acting as room ushers, monitoring room numbers for sessions, changing over posters daily and running errands.   Student volunteers also ran the social media for the Congress, uploading videos and images to capture the essence of the event through their experience.
The congress committee hosted a personalised student forum where students could hear and speak directly with the keynote speakers.  They were also invited to a volunteer after-party as a way to build their student community and as a thank you for all their work.
When asked to determine what set these volunteers apart from other volunteers, Zoe felt it was their level of engagement.
"It was evident these volunteers wanted to be there," said Zoe.  "They were so grateful to participate in a Congress where they could mix with international practitioners.  It made them feel a part of a global community and that they were on the right career track."
The eight top tips for getting the most out of your volunteer
With volunteers playing a key role in the daily running of a conference, here's Zoe's 8 tips to recruiting, managing and dealing with event volunteers (the right way).
Application process: To streamline the volunteer submission process, create an online form for people to complete. It should ask clear questions that determine the reasons why they want to volunteer and the time they are available
Volunteer selection: Select volunteers genuinely interested in either the conference topic or getting hands-on event management experience. These are the volunteers likely to be the most engaged
Communication: Communicate clearly with volunteers from the beginning, outlining expectations and volunteer entitlements. Be prepared to answer questions. If there's a large group, consider creating a Facebook group where you can communicate as a group and answer FAQs
Clear briefs: Prior to the event have a clear idea as to the different tasks that volunteers can undertake in the lead up to and during the conference. Have any relevant event information and instructions for each task clearly listed to provide to volunteers on the day
Unified look: Provide the volunteers with a uniform or a form of identification that clearly indicates they're working for the event. For WFOT, all volunteers wore bright orange t-shirts
Delegate: If you have a large volunteer base, nominate lead volunteers to manage the delegation of tasks amongst the group
Stay in touch: Have an identified way that all delegates can easily communicate with one another. For WFOT we used the social media app WhatsApp to send instructions and communicate with in real time
Say thank you: Remember to show your appreciation to the volunteers. For WFOT, the committee held a special forum and hosted a thank you party.  Volunteers also had the opportunity to attend some sessions if they weren't working
Need help with an upcoming event?
Read More of Our Event Thoughts