The 9 delegate touch points that make or break a conference
With the reputation of a conference largely impacted by the whole delegate experience, attention to detail is essential. Yet, these 9 invisible delegate touchpoints are often too largely ignored.
Delivering a conference sounds easy right? Book a venue, get the perfect speakers, sell tickets and turn up on the day. And voilá
your conference is served.
And sure, you can probably get away with this slapdash approach for at least one year – but we can guarantee that the following
year you'll find it difficult to sell registrations.
Why? Because the above process lacks any thought towards a quality delegate experience. With delegates interacting with the conference long before day one, ensuring every aspect is considered and well managed is essential.
Following is our top 9 essential tasks (outside of the conference program) to which you need to pay close attention, to build a high-quality
conference:
1. The conference look and feel
First impressions count and if the look and feel of your conference don't appeal to the audience from the outset, engagement will be low. We recommend getting a professional designer to create a logo and look for your conference that promotes the theme and sets expectations for the quality of your event. Your conference brand also needs to be adhered to and enforced throughout planning including all marketing materials, signage, delegate merchandise and publications.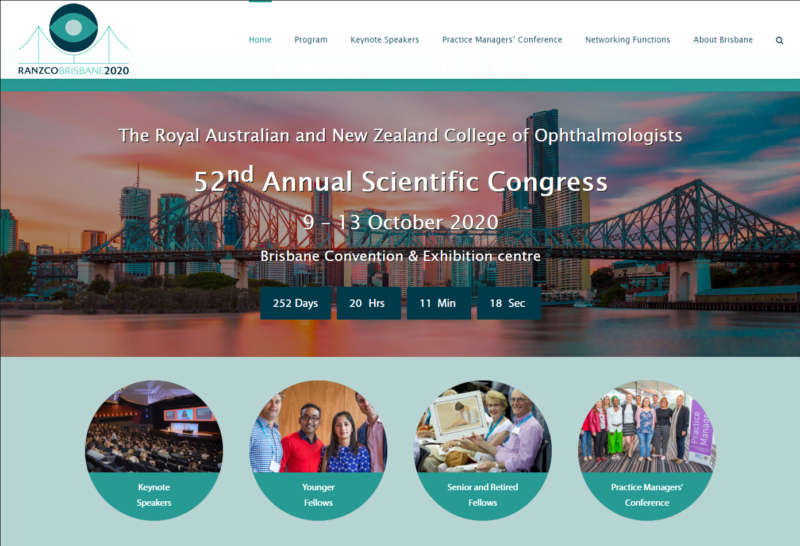 Both the conference brand and the conference website contribute to the total delegate experience.
2. Conference website ease
A conference website is the key informational portal and with the internet such a large part of everyday life, people have high expectations of how one works. Not only should information be clear and look representative of your design but it also needs to be easy to navigate and continually updated so pertinent information is always current.
3. The registration process
Registration is essentially one of the first points of contact for a delegate so it's an important experience to get right. When booking for events today, people, of course, expect an efficient, secure online process that is quick and easy to use. In addition, a dedicated person to professionally respond to enquiries and issues will go a long way in providing a quality registration process.
4. Call for submissions
Along with registrations, call for submissions is another avenue where people are getting their first taste of the conference experience. As a procedure where people are putting in an effort to submit a presentation, they have the expectation of a system that is straightforward and easy to use. Be sure to have an industry best program that doesn't cause delays in uploading documents, communicates needs well and allows people to come back and edit or replace documents. The ease and efficiency of the online reviewing component also need to be considered as many of your members may volunteer to undertake this role.
5. Your accommodation offerings
Where you stay for the duration of your conference naturally creates a lasting impression on an attendee's experience. You need to offer a range of accommodation options that suit a variety of budgets and needs, that is close to the conference venue and is easily accessible. The booking process and collection of deposits also needs to be smooth, filling delegates with confidence their check-in and check-out will be without hassle.
6. Conference communications
Any communication with your delegates can really set the tone and level of expectations with your delegates. You need to have processes in place where you can respond quickly and efficiently to any enquiries, ensure all written communications are professional, courteous and well written and verbal communications is well mannered, positive and proactive.
The small details from registering to catering and the AV can positively or negatively shape the overall conference experience.
7. The conference venue
Of course, the location and quality of your venue also plays a large part in setting the quality of your event and determining the delegate experience. Before booking you need to consider – is the venue easy to get to, is it big enough, does it fit the expectations of your members? With many of the conference staff also being onsite you need to consider their level of presentation and professionalism.
8. The onsite experience
From the moment your delegates steps onsite they have got expectations, they want to be met.  They need easy to see signs that tell
them where to go; a well-managed registration desk run by well-presented staff; an easy check-in process, program changes to
be well communicated; allocated rooms for presentations to be of suitable size; and audio-visual technology to be so seamless,
it's invisible.
9. The catering conundrum
Now yes the catering may seem like a small decision overall but it does make a large impression on attendees. Your catering should
largely reflect registration costs. You should offer a variety of healthy options, be plentiful, suit a variety of dietary requirements and be
easily accessible. But on the other hand, you don't want to waste resources (both financial and edible!) by over catering. Always make
sure you account for the 'wash' of delegates who don't turn up.
Need help planning your conference program?
Read More of Our Event Thoughts