Event Details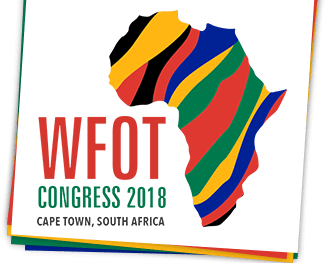 LOCATION
Cape Town International Convention Centre (CTICC)
Cape Town, South Africa
ABSTRACT SUBMISSIONS
2,459 from 79 countries
Case Study: World Federation of Occupational Therapy 2018 Congress
WFOT:  Our history, our challenges and our lessons
A strong relationship between TBE and WFOT has seen the delivery of a second successful international congress – despite the natural disasters!  We share the details here.
In May, the Think Business Events team travelled to Cape Town to deliver a global congress for more than 2,000 occupational therapists.
In an industry where a large congress is generally organised on the ground by a local PCO, our involvement was definitely an anomaly.
But it certainly wasn't a first for our team. Think Business Events has developed a long trusting relationship with the World Federation of Occupational Therapists (WFOT) and South Africa was the second international congress we delivered together.
Why?  Because over a decade as a collaborative team, we've built significant trust in the process.
OUR HISTORY

Denise first worked with WFOT when the international congress was held in Sydney in 2006.   Her management skills were so well respected, WFOT approached Denise to get involved with the 2010 Congress in Chile.
We came on board to manage the six-day congress and associated events.    Being a bilingual event (English and Spanish) language differences presented a few barriers along with the earthquake a month prior to the event dates and a volcanic ash cloud that grounded all air traffic in Europe as delegates were preparing to travel to the Congress.
We successfully delivered the Chilean Congress, with just under 2000 delegates and featuring 696 presenters, 989 posters, five pre-congress workshops, and three social events across five venues.  You can read more about the Chilean Congress here.

BACK TO WFOT 2018 SOUTH AFRICA
The success naturally evolved into the management of the South African Congress held in Cape Town, 21-25 May 2018.
While this time language difficulties were of no concern, time zone implications, cultural differences and another natural disaster were challenges that needed to be dealt with.
Timely issues
Working collaboratively with an executive committee based in Australia and the UK in addition to the local organising committee in South Africa, time zones were a challenge.
"It was a case of one group starting their day while the other was finishing up," says Denise.  "So, there was a lot of late night Skype meetings and being super responsive on email replies knowing the time difference could contribute to additional delays."
Conference cultural differences
From a Professional Conference Organiser perspective, a local South African PCO was acquired to assist with helping interpret the cultural differences between the two countries.
"While international convention centres operate very similarly across the world, there are some things common in Australia that aren't necessarily true for South Africa," says Denise. "So, we appointed a local PCO to help review contracts to ensure we were agreeing to standard terms and conditions. They also helped provide local knowledge by putting us in contact with respected and reliable event suppliers."
Another natural disaster

Cape Town is currently experiencing a severe drought where rainfall diminished so rapidly the reservoirs supplying the city water dwindled to approximately a quarter of normal levels.
The city was set to turn the taps off – with 'Day Zero' announced to be in line with the Congress dates.
With the issue attracting global attention, delegates were highly concerned about travelling to the country and depleting the minimal water resources further.
"We received a flurry of emails from delegates concerned their presence would put unfair pressure on the city's low water resources," says Denise.  "While in the scheme of things, the impact of our delegates on the water supplies was minimal, it would have a greater impact on the tourism industry if we didn't attend."
Think Business Events, together with WFOT, set up a communications campaign to alleviate delegate concerns and stress the importance their tourist dollar would bring to the city in its time of need. In addition, advice was provided on how to effectively conserve water while they were at the Congress.
The Convention Centre also implemented measures by turning off taps in the bathroom, supplying hand sanitiser in its place.  Bottled water was provided to delegates to encourage them to think wisely about their tap water usage.
Embraced by the Global Occupational Therapy Community
Despite these external challenges, the Cape Town Congress was thoroughly embraced with more than 2025 global Occupational Therapy community members in attendance.
More than 85 nationalities were present with the top 10 countries represented included South Africa, United States, Canada, United Kingdom, Australia, Sweden, Denmark, Iceland, Switzerland and Japan.
From the very beginning South Africa was a popular choice.  Here are the stats from this exceptional five-day congress:
We received 2,459 abstract submissions from 76 different countries.
We had 1,150 speakers present across the five days
We held three keynote addresses, three symposia, a student forum, a panel discussion
We hosted 10 pre-congress workshops, 13 in-congress workshops, 3 exhibitor workshops, 10 site tours and 71 oral sessions
We presented more than 800 posters across five days
From a professional Professional Conference Organiser perspective, it was one of the most challenging and rewarding events we've managed to date.  We look forward to bringing the congress alive again in Paris for 2022.
---
Testimonial from Marilyn Pattison, WFOT President
"Think Business Events have once again assisted us to deliver a highly successful congress which left delegates buzzing for weeks. The Congress provided us  with a unique cultural event with TBE guiding us through the myriad of choices and opportunities the location presented.  As always their team were supportive, friendly, calm and professional – a true pleasure to work with. Thankyou TBE."
Need an experienced PCO for your international Congress?
Read More of Our Event Thoughts