The Triad of Conference Management
(our secret recipe to professional conference planning)
While creating a conference can be a cookie cutter experience, delivering a conference loved by all is not. If you want to host a true conference of worth, you need to go beyond the 'join the dots' planning method.  We share our secret to professional conference planning. 
There are a lot of people who armed with a conference checklist think they can organise an event.   And to be fair – some might just actually organise a good one.  But it takes experience to build a quality, innovative and high achieving conference.
The true difficulty lies in creating an event that fulfils the expectations of not only the hosts but also delegates, speakers, sponsors and exhibitors. We share our secret conference planning recipe we call the Triad of Conference Management.
We believe to deliver a true conference of worth you need three factors in equal measure – engagement, outcomes and process.
1. Engagement
This ingredient is about value adding to the conference experience. A great conference optimises connections, interactions and learning through strategic program planning. Attendees need to feel a sense of belonging and value before they'll commit to any long-term loyalty.
Conference engagement can be achieved through strategies such as:
Maximising opportunities for conversations between attendees. This can be through meet-ups, mentoring matchups, well-planned catering breaks or even yoga and running groups
Creating opportunities for attendees and speakers to connect and interact by encouraging speakers to mix with delegates in more informal ways. This can occur through expert lunches, social events or creating a speaker's corner. This enriches a delegate's experience allowing them to personally draw on the skills of industry experts
Integrating technology to amplify participation. Technology is a great way to encourage connections and involvement from a broader range of attendees. This includes apps for Q&A sessions, online surveys or dedicated conference social media groups.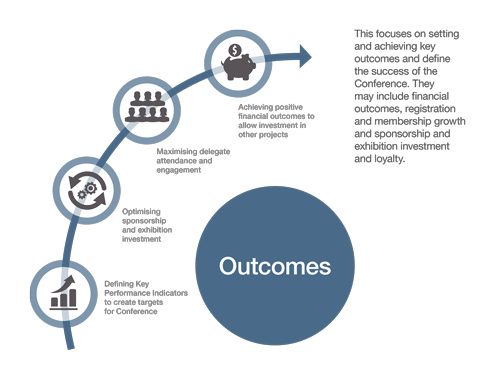 2. Outcomes
Achieving results.  For ALL stakeholders.
True event achievement can only be determined when all parties are satisfied their objectives for attending are met.
For hosts, it's about getting into the nitty-gritty of what they want to achieve and putting plans in place to make it happen.  This could include a focus upon financial results, profile building, membership growth or event engagement.
But it's also the host's responsibility to help other stakeholders meet their individual objectives.  By doing so you're creating a conference of worth and building future loyalty.
Individual goals could be as simple as maximising connection and learning opportunities for delegates and helping sponsors and exhibitors reach their goals.
Satisfying all stakeholders does take effort. It involves research, listening to feedback and integrating strategies.  But it's highly beneficial for long term conference growth.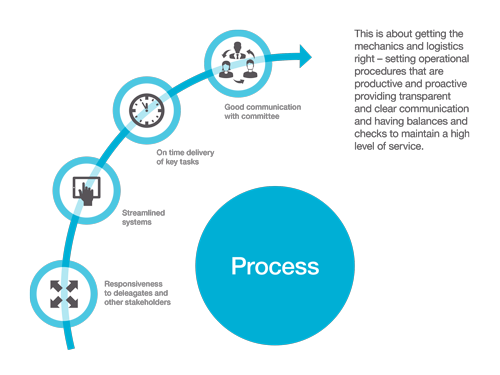 3. Process
And lastly process.  Yes, systematic join the dots planning does plays a large part of a successful conference.  But it needs to work in equal measure with engagement and outcomes.
When planning your conference, you need to be able to rely upon set operational procedures, proven systems and the ability for good old-fashioned communication.
This includes using:
Key planning tools such as a conference budget and critical path (yes, the checklist!)
Proven registration and call for submission software that are easy to navigate and secure to use
Regular planning meetings and open communication channels that encourage committee members to express ideas and deliver feedback
Clear marketing strategies including a well-planned website and communications
Set templates and strategies for communications such as speaker letters, brochures, websites and marketing
A well trained and experienced team supported by reliable suppliers
Set processes, templates and strategies allow for a smoother planning process and better positioning of your conference. It should result in well-informed delegates, happy sponsors and confident speakers.
A triumphant conference planning recipe
Success won't be achieved if you have an excess of one aspect but fail to achieve the other two.  The equal interplay of process, engagement and outcomes creates a planning "sweet spot" that goes beyond an "off the shelf' conference.
Through its implementation we've helped countless of clients achieve valuable growth in their annual conferences.  You can too.
Looking to build a conference of worth?
Read More of Our Event Thoughts