18 months of  virtual and hybrid conferencing – these are our top 5 takeaways

What can we take from the past 18 months of virtual and hybrid conferencing that will drive us into the future?
With the exciting prospect of our society and industry opening up, the horizon for 2022 looks promising. Although a number of items on this list were already part of the conversation pre-pandemic, the forced entry into hybrid and virtual-only conference models have given us a clear understanding of what's required to keep moving forward, hand-in-hand with technology, and the wider events community.
1. Hybrid all the way
Although a small number of our delegates over the past few months have suggested that they are happy to continue with virtual-only events due to convenience, the overwhelming majority are looking to return to face-to-face to events while still having the option of attending virtually. The positive feedback around the hybrid model of business events is due to:
Business and association delegates from international, rural or remote locations who would not have traditionally been able to attend events are now a realistic target market and can be catered to.

A larger pool of international keynote speakers and presenters become available within a hybrid or virtual model, and this will continue as people are slow to take up travel opportunities again.

Pre-recorded presentations can be incorporated into a live programme, and the technology for this will only get better and more seamless over time.
2. On-demand content

Before the pandemic, if you couldn't attend a conference you had to rely on colleagues or peers to relay all the important material presented well after the conference is over. With archive programme content now available online, whether you're unwell, can't travel or are simply too busy spending time catching up with other delegates, content can be available to watch for some time after the conference has finished.
This is not only meaningful for virtual-only attendees but for hybrid events with concurrent sessions running. Delegates won't miss out on a topic of interest or there may be a live speaker who wants to see another presentation that is happening simultaneously to their own. The technology is not quite there yet in terms of being in two places at once!
 3. Sustainability
Although this important social issue has been on the events industry agenda for many years now, the forced halt of in-person events have given organisers and suppliers pause for thought about the environmental implications that large-scale events can have on the wider community and planet.
Here at Think Business Events, we've begun to incorporate digital processes. This means moving to paperless registration and transferring the majority of our programme information online event mobile/tablet apps.
Another significant element of the conference experience is swag bags or gifting packs. Transitioning this value-add from tangible to non-tangible items is quite simple and many items can be offered in a digital format. Things like gift certificates, charitable donations, discount codes and pdf brochures or white papers can easily be distributed and accessed via email or app.
4. Integration of AR and VR technology
All stakeholders of a conference can experience the power of this new technology. For presenters and keynotes, the ability to enhance static slideshow presentations with moving and realistic content means audiences become more deeply engaged and stay that way for a longer period of time. With conference programmes becoming increasingly swamped with content, any way to keep delegates switched on to what's directly in front of them is a win.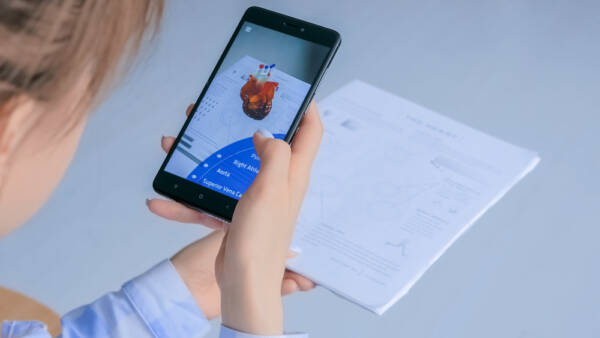 For sponsors and exhibitors, the transition to virtual events has been particularly tough, so this technology really is a gamechanger when returning to in-person events. New innovations and products can now be presented to delegates in an interactive and highly engaging way, no more wasting paper on brochures that will be long forgotten once the conference is over. This type of interaction will be more memorable too as experiences can be recorded, and the tests or trials that a delegate participates in can easily be shared to email, and if suitable, over social media channels.
As conference organisers, this not only aids the sponsors and exhibitors in creating a longer lasting interaction but can be leveraged as bonus social media content for use during and post-event as part of the wider marketing activity.
5. Extension of Event Apps
Working as the bridging between virtual/hybrid and in-person events, the evolution and more permanent take-up of event specific apps will be a key feature used across business events over the next 12 months and beyond. The use of QR code check-ins and digital vaccination certificates during the pandemic means most delegates will be more familiar with using their device to connect with their environment.
Things like gamification, having been used sparingly at in-person events in the past, but heavily in a virtual format, will become more dynamic and have better integration with live areas of the program; see it included in some social events, workshops and within the exhibition hall.
Other features of an event app will allow delegates to connect with one another prior to the event, cutting down on the time needed to set-up networking opportunities. And for the conference convenors, sponsors and exhibitors more branding opportunities arise as well as venue mapping for both navigation and social distancing requirements.
Got questions? Contact us for more information and to discuss your upcoming event.
Read More of Our Event Thoughts